Open your account and get your free booking system today.


mystic

Booking Wizard, commission free, cloud-based, automatic,
on-line booking, payments and notification system!
Welcome to the Booking Wizard.
The booking wizard online booking system is ideal for use with:
holiday home bookings
mobile home/RV
Bed and Breakfast
Here you can find out how to harness our online booking system for your website. Check out the demonstrations and examples on how the Web Widgets can easily be added into your existing website.
We can cater for:
Property owners who have individual subscribers who look after their own properties.
Individuals who just want their own Booking Facility for their own website.
Brokers who handle all the bookings and operate on a commission basis.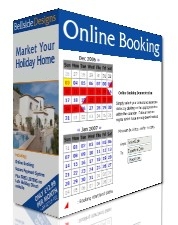 Demonstration booking modes:

Booking View Sheet:
Other facilities:

The System facilitates:
Book on-line and in real time
Provisional or Confirmed booking requests
Automatic payment tracking
Instant pricing
Instant email notification
Automatic calendar update
Add/Remove bookings
Try our live demo below
main
Owner made bookings
View all bookings in time Order
View all bookings in Reference Order
Notification by SMS to your mobile phone
Works in Spanish, French, Dutch, Italian, German and many more languages using google translate
Configure for weekly only bookings
Add extras / supplements / discounts
Configure different rates; summer / winter / special
Fits nicely into any webside as a cloud enabled widget
Optional Payments integration to the payment provider of your or your client's choice (PayPal, Protx, etc)
Instant payment notification IPN (This confirms a payment from paypal by your client)
Instant booking notification IBN (This confirms a valid booking request, can be used to add extra programming hooks)
Download all bookings in CSV format (suitable for MS Excel, Openoffice, etc.)
Fully configure the booking information and pricing per individual property